Summer Agriculture Academies
Regionalized, hands-on teacher professional development. Get to know resources available to you through Texas Farm Bureau's Agriculture in the Classroom program.
The focus is on science in these one and two-day academies, but they are also cross-curricular. Resource material is free. And professional development credits are offered.
2021 Summer Ag Academies:
July 14: Burleson (K-5 teachers) | Register
July 19-20: New Braunfels (K-12 teachers) | Register
July 22: Fort Bend (K-8 teachers) | Register
July 27: Lubbock (K-12 teachers) | Register
Registration is first come, first serve. Registration for each SAA closes two weeks prior to the SAA date.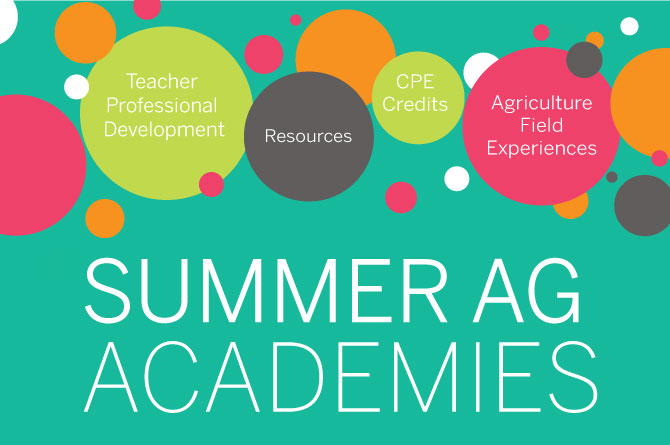 Chicken Leads Overall Decline in Red Meat and Poultry in Cold Storage
Tart Cherries Weigh Heavy on Reduced Fruit in Cold Storage
The latest Cold Storage report from USDA's National Agricultural Statistics Service, released this week , shows depressed levels of red meat and poultry as well as a marked decrease in total fruit stocks. The monthly report shows the end-of-month volume of commodities in freezer storage throughout the U.S. An important market-moving report, it covers most commodities that require cold transport, from nuts and fruits and vegetables, to dairy and meat.
Meat and Poultry in Cold Storage
At the end of May, total cold storage stocks of meat and poultry (excluding duck) came in at slightly above 2 billion pounds. This is approximately 190 million pounds, or 9%, below a year ago. All meat and poultry categories showed a year-over-year decline, with chicken declining the most. Total levels of red meat and poultry have been down since the height of the pandemic last year when packing plants were severely disrupted by the, leading to a decline in production and consumer panic buying. Total levels of animal protein followed the typical seasonal pattern through the rest of 2020 but began to diverge from the expected in February 2021. Normally, stocks would begin to rebuild this time of year, but instead cold storage levels have been declining for the last several months.
Total beef in cold storage was reported at 414 million pounds at the end of May. This is just over 3 million pounds below May 2020, amounting to a 1% year-over-year decline. This is mostly driven by an 8-million-pound drop in boneless beef in storage, as bone-in beef increased by over 4 million pounds. Beef in cold storage has largely remained immune to pandemic disruptions over the last year, maintaining its overall levels while following typical seasonal patterns.
Pork, however, is a very different story. At the beginning of the pandemic, pork in cold storage dropped significantly and has not recovered. However, since May of last year, pork has followed typical seasonal patterns without experiencing any more declines, but also not rebuilding its levels either. May is a month in which we have to take into account base effects when looking at year-over-year comparisons for pork. Compared to recent history, we are looking at very low levels of pork in cold storage, but due to the drop in May 2020 it is only registering as a 1% year-over-year decline. Total pork in cold storage was reported at 461 million pounds, a drop of just under 7 million pounds from last year.
The story in cold storage so far in 2021 is largely a chicken story. The overall declines in red meat and poultry were mostly driven by chicken, with 730 million pounds of the protein in cold storage, according to this most recent report. This equates to a drop of nearly 130 million pounds, or 15%, from last year. While this was actually an increase over last month, there was a counter seasonal decline over first five months of this year compared to recent years. It remains to be seen if chicken will experience its typical fall build-up in cold storage levels.
When looking at individual categories, we get a mixed story. The largest driver of the decline in chicken levels compared to 2020 is in the "other" category, which dropped by 85 million pounds, or 23%. Other notable declines were in breast meat, which decreased by nearly 15 million pounds, and thigh meat, which dropped almost 20 million pounds, or 60%. Drumsticks jumped by 7-million-pounds (24%), while chicken paws increased by 55%, or 12 million pounds. With a nearly 20% decline from last year, chicken wings have made headlines over the last several months. Wings have been experiencing a pretty spectacular price run, which has been squeezing national chains that cater largely to buffalo-style wings. In the second half of 2020, wholesale wing prices began an upward trend that really took off in 2021, resulting in spectacularly high chicken wing prices. These prices have backed off a bit in the last few weeks, but remain nearly 65% above pre-pandemic levels. These elevated prices are likely more a function of stellar demand placing upward pressure on not only chicken wing prices but red meat and poultry prices in general. Unfortunately, we cannot just simply adjust the supply of chicken wings to match consumers' increased appetites; we only get two wings per bird, and we don't raise the birds just for their wings. This highlights the inherent complexity of livestock and meat markets, and producers' inability to respond to demand with specific products.
Fruit and Vegetables in Cold Storage
The total May cold storage stocks of vegetables (excluding potatoes) came in at approximately 1.6 billion pounds. This represents a 1% increase from May 2020. All through the pandemic and into 2021, the total vegetable stock in cold storage has remained consistent with historical norms. The total stock of potatoes in cold storage drew down over summer 2020, at the same time the market faced a glut of fresh potatoes caused by demand-side disruptions during potato harvest, with many producers forced to use the Coronavirus Food Assistance Program. Potato growers rely heavily on food service and institutional demand, sectors that were devastated by COVID-19 lockdowns in 2020. The total stock of potatoes in cold storage is 3% higher than 2020 at over 1.1 billion pounds, but still below what is typical for May. The stock of french fries in cold storage has remained more consistent over the pandemic and is at approximately the same level it was in 2019.
The year-over-year change in total fruit stocks in cold storage was a 23% decline, with the total stock in cold storage at approximately 720 million pounds in May. The largest contributor to this decline was the nearly 65-million-pound drop in frozen blueberries. This 39% reduction from a year ago is largely due to an increase in frozen blueberries in 2020, likely linked to reduced fresh blueberry demand from COVID-19-affected industries. The current stock of frozen blueberries is 9% higher than May 2019, suggesting a return to more normal market conditions. Total stock of strawberries in cold storage declined by over 38 million pounds, or16%, from May 2020. Strawberries also were more likely to be frozen last year, with May 2020 total frozen strawberries exceeding May 2019, despite a continued trend of declining overall strawberry production. This drop is largely due to continued decreases in production and a return to more typical cold storage levels. Stone fruit, most especially tart cherries, are tracking in unexpected ways. 2020 tart cherry season production levels were down 47% from 2019 totals, largely due to late frosts. USDA's production forecast suggests similar totals for 2021, again due to frost. It is likely frozen inventory will remain below historical levels into 2022 if the production forecast is accurate. The price for tart cherries increased by almost 152% from 15 cents a pound to 38 cents a pound. April price data is consistent over last year, suggesting these prices will hold at least until next harvest season.
Summary
USDA's latest Cold Storage report shows the animal protein supply chain still struggling with the impacts of COVID-19. At the end of May, total cold storage stocks of meat and poultry (excluding duck) came in at slightly above 2 billion pounds. This is approximately 190 million pounds, or 9%, below a year ago. The story in cold storage so far in 2021 is largely a chicken story, with the overall declines in red meat and poultry mostly being driven by a 130-million-pound reduction in chicken in cold storage. The impact of COVID-19 on produce in cold storage has been mixed. Vegetables in aggregate have been unaffected, while potatoes have become more volatile, especially when excluding french fries. The declines in fruit cold storage stocks largely reflect more normal marketing conditions, with the exception of frost affecting stone fruits.

Protect stored grain now to avoid later financial loss
By Jennifer Dorsett
Field Editor
A farmer's job isn't over after crops are harvested. Grain crops must be safely stored until the commodity is sold.
In the U.S., an estimated $2.5 billion is lost each year from stored grain insect damage, according to Richard Alford, director of Sales of Specialty Products for Central Life Sciences.
Stored grain insects—such as beetles, weevils, borers and moths—pose a significant threat to stored corn, rice and wheat in Texas. Insect infestations can cause contamination, odor and mold.
Most importantly, they reduce the value and overall quality of stored crops.
"We have a line of products that give the farmer and the grain elevator a lot of flexibility for controlling insects in their grain," Alford said in an interview with the Texas Farm Bureau Radio Network.
In the past, Alford noted the only option was to fumigate grain in storage after infestations were identified. Now, insecticides, insect growth regulators and synergist products to increase efficacy can all be used to safely treat grain as it's being loaded into storage bins.
"We're able to treat that grain direct from the field as it's going in the bin to prevent that damage from ever happening," he said. "When farmers go to sell, they have well-conditioned, clean grain."
Many farmers still wait until they see damage and then fumigate. While that is an option, Alford said fumigating grain that's already infested can still cost farmers more money.
"Fumigation is still a wonderful thing to do and an option we need, but if we can eliminate the damage when you put the grain in the bin, it's like putting $100 in the bank," he said. "Do I want to pull $100 out, or do I want to just know that I only get $90 to $80 out? I'd rather get the $100 out. So, for a minimal investment, because you're going to have to do something anyway, it's better to protect that grain from insect damage in the first place."
Knowing which insects may be present in the region is vital to finding the right grain storage protectant.
More information is available at bugfreegrains.com.

Rainfall brings flooding to West Texas
By Jennifer Whitlock
Field Editor
In the northwest corner of Scurry County, Cody Cribbs' farm was looking very dry earlier this year.
So dry, in fact, that he didn't even bother seeding any fields for grazing.
But conditions in West Texas have changed drastically in just a few short weeks.
"Like everyone else, we started off in the same position, dry as it could possibly be. And all the forecasts said we better expect it through the end of July, maybe through August and possibly even September," he said. "But since the first of May, I'd say we've had between 17 and 19 inches of rain, which is about our average rainfall for the entire year."
The rain was much appreciated. Cribbs had been feeding his cattle throughout the winter and spring because there just wasn't enough forage available. Ten days after the first rain, he said he was able to drastically cut back on feeding.
"They all perked up, slicked off, and everything's fat and happy at the moment," he said. "Now, we're back to feeding just to make sure everything is still here when we make our rounds. It's more of a treat than a necessity."
The much-needed drought relief in West Texas has come with a few challenges, however.
Some flooding has occurred due to the influx of moisture, and a few tanks have spilled over and made for some muddy conditions trying to get into the field to check cattle.
A friend who was in the field trying to drain some farm terraces recently called Cribbs to let him know he had a calf in the bar ditch that needed rescuing. The newborn calf had somehow made it outside the fence line and was stranded with no way to make it back to its mother.
Like many farmers and ranchers, he employed a little farm ingenuity to reunite the pair.
"He was still young enough to have an umbilical cord, so I don't know if she was cleaning him off and he rolled through the fence or what happened," he said. "But there wasn't any way in the world we were getting him back into that pasture with anything other than a tractor, so I scooped him up in the front-loader and carried him back out there."
Although getting back in the fields was delayed and there's been some minor flooding, he considers the rain a blessing and one he hopes continues throughout the summer months.
"In a perfect situation, we'd get three weeks, maybe a month and then turn around and get another shower the first two weeks of August," he said. "Hopefully, the forecast holds, and we can stay in these high 80s, low 90s, but July isn't really known for that. So, we're just going to hope for the best and grow all the grass we can until then."